In the digital age, having a website is essential to generate positioning and meet growth objectives. However, many people do not know about everything that must be taken into account when contracting the development of their web, and they end up spending money on a service that is not likely to work.
Discover the 7 most common mistakes people make when starting with the creation of their website. Learn everything you should know and avoid, make sure your page really generates income and fulfills its purpose:
1.- Not focusing on the end goal of your website
We must always remember that the reason why hire someone to develop a website for us is not because we simply want to have a nice site. Rather, this site has to be the medium to attract new potential customers. So, you have to change the mindset of seeing the pages as a business card and more as an investment as part of the strategy.
What you should know: If a developer only asks you about the content and focuses only on the attractive design, your website will not do you any good.
A web page must comply with having all the information, be fast and efficient, give confidence and be visually attractive and easily readable. For example, some elements that you must comply with are:
Menu at the top that efficiently condenses information and generates easy access with a single click.
Good readability, choose the right colors, letters and structure design.
Professional images that generate interest in the user and give formality to the site.
Optimized, relevant and useful texts that add value.
Well-defined categories and pages, which make the user experience pleasant.
Be totally geared towards potential customers.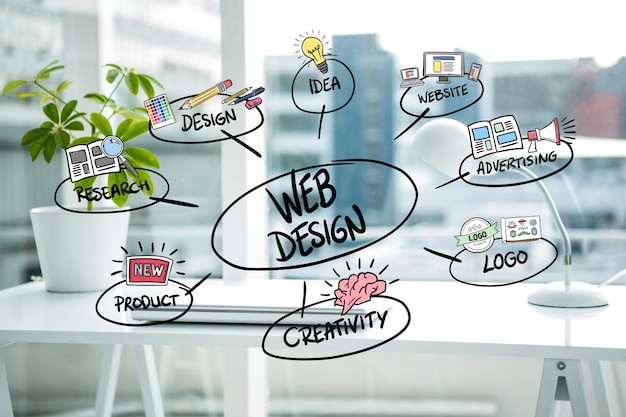 2.- Not having a defined online positioning strategy
There are people who know that it is necessary to have a website, but they do not understand if it is suitable for their type of company. For example, there are differences between a restaurant page, focused on using its website for reservations, to another focused on becoming a site of interest in search engines. Then, the starting point must be clear and guide the creation of a website to meet these objectives.
What you should know: Do not forget that a website is constantly updated, so it not only needs an investment of money but also of workforce and other resources that will have to dedicate time to this area. Because a website is not just about design, it also involves customer service, content creation, administration, etc.
3.- Not having a previous SEO study
Many people think that the first thing is to have a website and then position it in Google. But it's all the other way around.
What you should know: To create a website, it is necessary to investigate everything: the market niche, the user's preferences, the image that you want to give, the competition, the keywords, etc. In this way, you guarantee that from minute 1 that you create your page, it begins to be detected by the positioning algorithms.
¿Want to know more about SEO? Guide to boost your website's SEO. Everything you need to know.
4.- Not knowing that the greater the competition, the greater the investment.
Depending on the number of competing companies, you will surely find many that are already highly positioned.
What you should know: To be able to compete with them, it will be necessary to make a good regular investment in design, content creation, advertising, etc. This to make sure you build web visibility.
5.- Thinking that predetermined templates are a good option
Many people think that something predetermined saves time and cost. But predetermined means that we have to adapt to the option, and this can be detrimental and interfere with our objectives. Of course, this depends on how customizable the template is, but in the end, it is a reality that something predesigned will not match 100% with our tastes, and there may even be a lack of elements that we consider.
Normally this is solved with specific plugins for the functions we are looking for, but these plugins reload the page making it slower and damaging the user experience. In addition, predesigned templates depend on the designer who made them in the first place; having the possibility that your website becomes obsolete at any time if it decides not to update them.
What you should know: The best long-term strategy is to design a custom theme from scratch that is 100% geared towards your business.
6.- Not investing in the content of our website
Always keep in mind that you have to give the user the information they are looking for, and create enough interest to make them a regular visitor, and a potential customer. Even Google knows it, and that is why it prioritizes websites with good content even over aesthetically very attractive ones but whose content is insufficient or lacking in interest.
What you should know: Try to have useful and clear content on your site that provides added value, so the chances of it being successful are much higher. It is not enough to have the written texts, but you have to conceptualize them correctly, using the appropriate words and images. Also, it is important not to leave the niche, that is, if you have a travel site, you are not going to talk about fashion if there is no link with the main topic.
Also, images are essential to build trust, since it is the first thing we look at. If an image does not give us a good feeling, it predisposes us to the web in a negative way. That is why the images must be professional, whether they are made by a photographer on purpose for the project, or they come from a stock image bank.
7.- Believing that an expensive website is better and a cheap website is ideal to start
Well they say that cheap is expensive, and expensive is not always what we need. The reality is that the key is to invest in what is necessary, what is going to work.
In the case of an expensive website, this could be unnecessary, for example, if too much design is invested in such as effects, elements that move, or many colors that besides being expensive because they require time, far from attracting traffic, it scares you, especially if the user views it from a mobile device.
Speaking of the cheap ones, there are people who when starting their project dedicate the least possible investment to the web part. But if this will not generate a single customer, is that saving worth it? In the end, you could even spend more by redesigning.
What you should know: The key is to establish a design process efficiently, using all the information provided on this blog and keeping in mind the key aspect. Basic is not synonymous with ugly or cheap, on the contrary, if we have basic but widely optimized functions, we have everything to win.
The list ends here. Did you already know this information? I hope it helps you to orient your website in the best way and start using all the resources that web design offers in your favor.
Keep reading: